– Family History –
I am the Great-Great-Great Grandson of Jacob Wilson, the last Town Crier of Birmingham, who died in 1882. My Grandparents and Parents were all members of Bournville Operatic Society, based at the Theatre at Cadbury's Chocolate Factory and I first appeared on stage at about the age of 6 when one of the productions they were involved with called for a child with a loud voice!
I continued the family tradition and have appeared in numerable stage productions of various types, being a semi-trained Tenor who frequently takes lead roles in Amateur productions and am occasionally asked to solo in formal Concerts. It is the singing training that gives me the volume and projection in the voice.
In 1985, the post of Town Crier in Bromsgrove was advertised, so I thought I might be in with a shout! When I turned up, there were 5 other contestants including one with the perfect name, Tom Crier!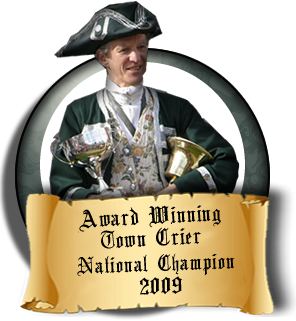 I have been really fortunate to continue as Crier and am privileged to represent such an important and historic Market Town. I have been able to travel round the world representing Bromsgrove and have worked with many celebrities. I cost the Town very little, being an Officer of the Court Leet which is no burden on the Council Tax Payers.
The longest known incumbent of the Town Crier's post in Bromsgrove was in Office for 53 years. It would be nice to beat that, if I can!